Endless Space 2 Review
The past year or so has been great for 4X and grand strategy games, but it's only a few that shine in the light when there are so many around. Only a few of those games manage to break through the myriads of games that fill up entire lists and end up not getting the much coveted love of the strategy game fans. The first Endless Space game was one of those and it received very good feedback from fans of the genre. The developers knew that with their second installation, they had to go far and beyond in order to make what was already amazing, even more of that.
Entering the world of Endless Space 2, we see a bunch of things brought over from the original and loads of others that were just improved so much that it makes it feel like an entirely new game on its very own and not just a continuation to the series. Be it the control of the systems or how the battles break out, Endless Space 2 has a lot to offer on both a micro-management as well as on a grand-strategy level.
The game is filled with great looking battles, both in space and on ground and it provides the player with a lot of options for going through the game. That includes a wide selection of unique races which can provide all sorts of variety to each of your walkthroughs. It actually made me feel as if the game had a lot more character than Stellaris had as a game and the factions involved within it are actually giving it a more complete look and feel when it comes to traversing relationship changes for them.
Being an early access game at first, the game was filled with its occasional bugs and small issues here and there. Those were to be expected and one could only expect that a company like Amplitude Studios will most certainly take care of most of those as times passes and they roll out new patches. That is of course what happened and the developers addressed almost all of the issues that most players had problems with.
Multiplayer has also been added to the game and although I did not get the chance to try it, I am most certain that it will be just as exciting as exploring new things in single player, just with the added difficulty of having to be competitive in many situations in order to survive in a vast galaxy full of dangers (laid out by other players). For example, AI diplomacy is near-perfect in this game so I can only imagine how much better it can get when you are playing this on multiplayer.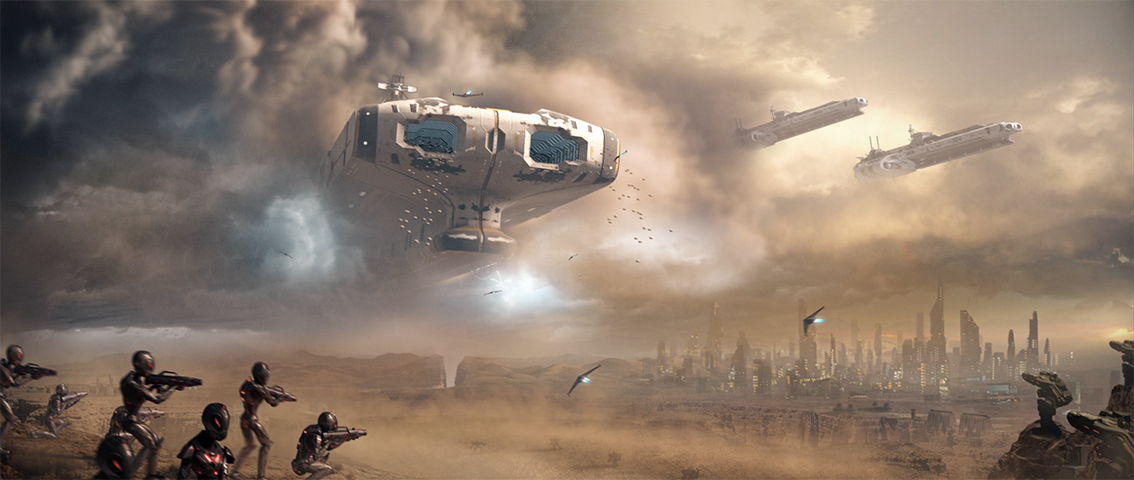 Exploring the worlds that unfold through Endless Dungeon 2 can be quite exhilarating. The beauty of brand new discoveries and the feeling that you get when you get the chance to exploit all sorts of new findings is just something that most other games of this genre do not manage to achieve as well as Endless Space 2 does. The beautiful artwork within the game combined with the stunning 3D visuals in-game are only testament to how pretty a game of this genre can be without having to sacrifice gameplay or anything else in order to look this good.
The aural background is of course also very well done with both calm and stressful (e.g. combat) situations within the game being accompanied by the right kind of sounds to make us feel as if we are indeed stepping into new ground, doing things not done before. The sounds are usually very important for me in order to be able to submerge myself in the interactive experience that a game offers me and in this case, I was very satisfied with what I was getting.
Needless to say, the company will most likely be throwing more content for the players in future updates and apart from that, also a lot of fixes that known problems that still exist (but are minor) within the game. The continuous support that the company has showed for many other of their games in the past is only proof of how much they care about the player base of one of their games. Showing love for your past games is always a sign of a caring developer and players of all game genres love those.
You can find Endless Space 2 on Steam.
---
Verdict
This is yet another addition to the Endless games series and it is done as well as any other of the series was done. If anything, despite not being a huge fan of the genre, the theme alone was enough for me to fall in love with the game and feel like I wanted to spend even more hours on it, exploring its vast galaxies full of possibilities. Endless Space 2 is most definitely a game you want to pick up if you like this genre. If you got hours to spare exploring and negotiating with alien civilizations in a video game, then this is the best video game to do it in.
---
+ Stunning visuals and fitting aural background
+ Variety of unique races to choose from
+ AI diplomacy is very intuitive and fun to play with
+ Plenty of content, as is usual for the games of this series
– Minor bugs here and there that will eventually get fixed
– Playthroughs sometimes feel too long when there is not much going on
Score: 8.3/10
– Konstantinos "Kelfecil" Christakis