Abracadabrew Review
Halloween is gone and we now have to wait another year before we can dress up again in spooky costumes and go trick or treating (if that's something you do of course.) That however doesn't mean we cannot have some good ole witch brewing fun and Abracadabrew is here to deliver just that.
You can find this review in video format as well.
Abracadabrew is the creation of Miju Games which is a developer team consisted of only two people. The title is all about brewing all sorts of arcane recipes in your witch cauldron, either by yourself or with the help of friends. A multiplayer game at its core and a quite fun one for that matter, Abracadabrew does its best to test our cooperation as well as our memory.
The game is all about following the recipes that are shown on the top left of our screen. We need to move our little witch around each stage looking into cabinets, boxes and all other kinds of storage places for the ingredients that are needed for each recipe. This of course becomes more and more complex as the recipes become bigger and more intricate. A mix of colors, items, restrictions and different special requirements all play a role in increasing the complexity of the game as we move further into the game's content.
The game of course relies mostly on your memorizing skill when you play it solo. When you play it with friends, organizing the chaos amongst your group is what seems to be the focus of the gameplay. You might need a red butterfly but one of your friends might be picking up one to dip in the cauldron too, therefore ruining the order of ingredients and resetting the whole thing. It's quite hectic and at the same time very fun and challenging to try and make sense of everything.
I am a fool for anything witch themed and I have to say that Abracadabrew approached the whole cute-witches-brewing-stuff theme very adeptly. The cute little 2D witches dashing around the stage are super fun to look at and the visuals overall give off a very playful and family friendly atmosphere. The title manages to be very simple in its looks but at the same time have its own style.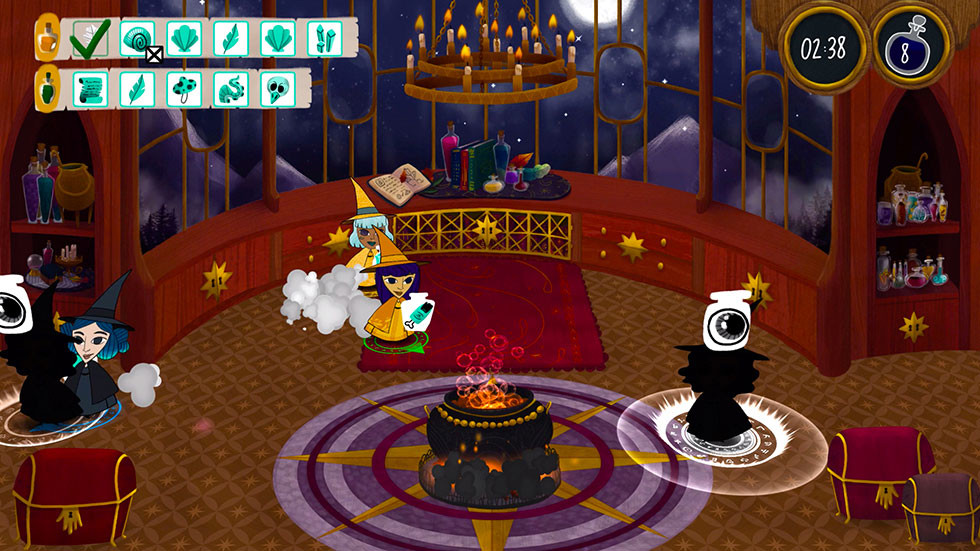 The only complaint I have with the game is the fact that it doesn't have online play but then again, that's totally understandable for a small indie title. On the bright side, we tried out the Steam Remote Play with it and we were able to play the game just fine with three other people. Unfortunately, Steam Remote Play has a lot of limitations when it comes to situations where someone's connection is not exactly a very good one. Nonetheless, we were able to thoroughly enjoy the multiplayer side of the game with little to no issues.
Abracadabrew is a cute game that is all about running around like crazy with your little witch in an attempt to try and remember where each ingredient is for your next mystical recipe. The title is very family-friendly and I can also see this being played as an occasional multiplayer game to play in the background of a party. Abracadabrew is very reasonably priced and offers quite the fun should you choose to pick it up.
You can find Abracadabrew on Steam.
You can watch the game's trailer here.
You can follow the Miju Games on Twitter for more updates.
~Constantine "Kelfecil" Christakis
---
We would like to thank the developers/publishers for providing us with a copy of this game for coverage purposes. As a non-commercial press team, it is our honor and our delight to be able to provide our opinion on it.